In the past two years, we have seen the Covid-19 pandemic catalyse the digital adoption drive by consumers in the retail industry. With the shift in consumer behaviour, the business of hyperlocal deliveries of essential commodities in the timespan of 10-30 minutes, popularly known as 'Quick Commerce' is rapidly penetrating the growing e-commerce market globally, revolutionizing how the product supply chain works by targeting short distance and short duration fulfilments — a natural evolution for e-commerce.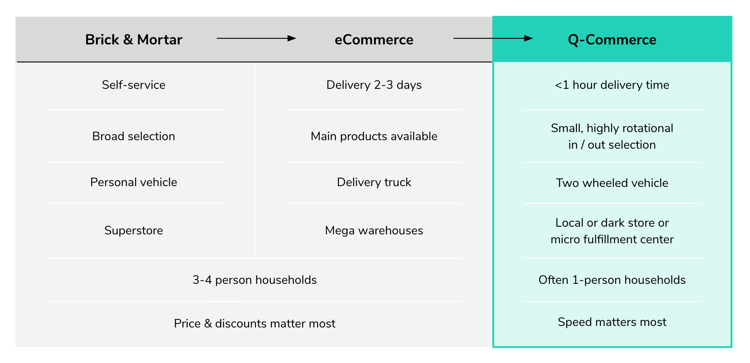 Rather than replacing weekly grocery runs to mom-pop shops or big-box stores, q-commerce is available to help when there is need for a specific set of things quickly and easily. It allows clients to receive little quantities of things practically instantaneously, whenever and wherever they need them.
Some key Q-commerce use cases have been seen in the consumables vertical, which houses food, homecare, personal care, over-the-counter meds, beverages, pet supplies, fresh staples, and alcohol, as well as adjacent and long-tail categories by integrating corner stores, cafes, supermarkets, pharmacies, and restaurants to provide customers with the best choice of products in their immediate vicinity and eliminating the burden of multiple pickup points at a reduced delivery cost and time.
Q-commerce is gaining traction in Africa, with Glovo, Bolt Food, Jumia Food, and Konga Food leading the charge in Nigeria. Hungerstation and Talabat rule the Egyptian and MENA market, while GoPuff, Gorillas, delivery hero, food panda, Deliveroo, Uber Eats and Door dash are global unicorns.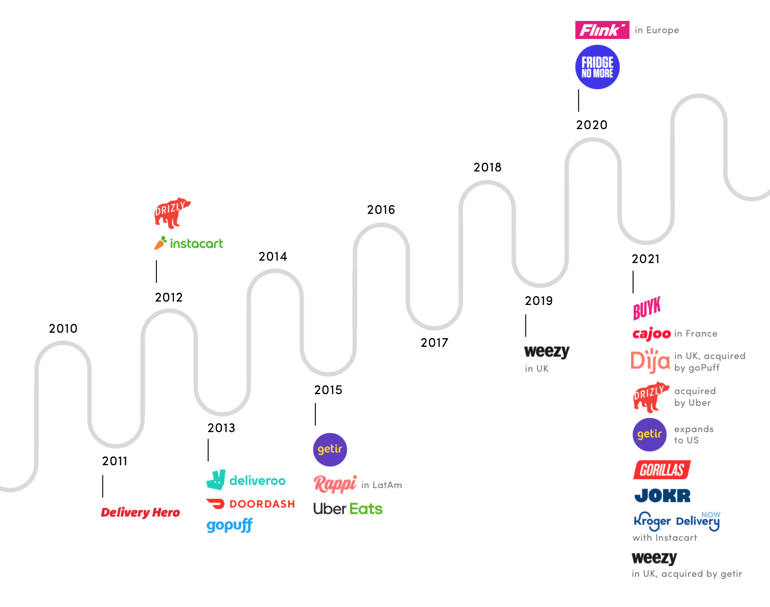 Traditional e-commerce as we all know revolutionized the retail and delivery landscape through online ordering, but even today delivery times still average between 3-5 business days and larger orders are encouraged through several upselling and cross-selling tactics. In Africa, the current growth trajectory of e-commerce is currently burdened primarily by issues around logistics, internet penetration, payments, regulation and consumer trust.
New trends such as remote work, the start-up revolution, and hybrid workstations have evolved as a result of expanding urbanization and the maturation of the technological ecosystem, moulding and driving a shift in consumer behaviour, culture, and demands. Customers want to buy what they need when they need it, and they expect convenient and quick fulfilment of their unplanned purchases, indulgences, and refills. Also, the technology-dependent Gen-Z and Millennial generations are gradually filling the addressable customer segments across all verticals globally, it is now critical for businesses to tailor their strategic perspectives to meet the whims of this modern (impatient) consumer segment if they are to remain relevant as those who "technologize" should optimize. The Q-commerce model also comfortably accommodates the concerns of the ageing population.
Q-commerce has made inroads into African cities; making small quantities of goods available to consumers with instant delivery on a whenever and wherever need basis at pocket-friendly delivery rates, solving the challenge of efficient last-mile delivery while deepening consumer trust. The adoption would only multiply.
************************
I had shared this article in an internal publication for Konga.com — where I currently work as a Business Development Manager. Let me know what your thoughts are.
1